RECOMMENDED CHAIN OILERS:
We can complete the distance of over one thousand miles on just one of our long weekend tours and for those with chain driven machines it's always a case of having to lubricate the rear chain and maybe even adjust it over distances such as this. After some research we think we have found the ideal product that's simple and easy to fit and will reduce maintenance and ultimately cost. We have been trying out the Tutoro chain oiler that works on a simple gravity fed system. Having visited Nick at his factory we can say that these are well engineered products and for just £65.00 plus the dreaded VAT that makes it a total of £78 inclusive(and that's for the deluxe system). These are good value products that have even won a best value 'Ride Magazine' award. We've been trying them out on our training bikes so here are a few pictures to see how unobtrusive they are when fitted. If anyone is interested in one then contact us and we'll even help you fit the system. It couldn't be simpler. If you want to see more then visit:
www.tutorochainoiler.com
A product well worth recommending for the tourer with a chain drive machine. This product will take the hassle out of touring.
Why not order your chain oiler and oil from us ready for your next tour. Prices do not include postage and if you are local I will help you fit at no extra cost.
No problem with spares for this piece of equipment. All parts are available separately. Contact us for details in the unlikely event that you will need to replace something.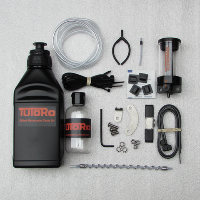 Our picture shows the unobtrusive oil reservoir that is part of the deluxe kit that comes complete with 500m of oil, a top up flask and the twin feed oiler . All this for £89.00 (excludes postage). Postage is an extra £2.95.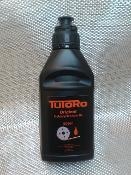 500 ml of chain oil. Specially formulated for use with the Tutoro chain oiler. Cleans and lubricates. Price inclusive of VAT £8.99. Postage is an extra £2.95.

A top up flask to take with you on those longer journeys. No need to order separately if you order the deluxe kit as the top up flask comes supplied with it. Price inclusive of VAT £5.99 (excludes postage). Postage is an extra £1.00